On the Airwheel product launch 22nd Sept, the latest S3 caught everyone's attention. Official news discloses that its configuration has kicked ass of those high-end self-balancing scooters on market. In addition to the high-end configuration and low-end performance, Airwheel S3 has realized 5 major functions: eco-friendly drive, zero-emissions, portability, low power consumption and intelligent control. It underlines the concept of intelligent and personalized commute.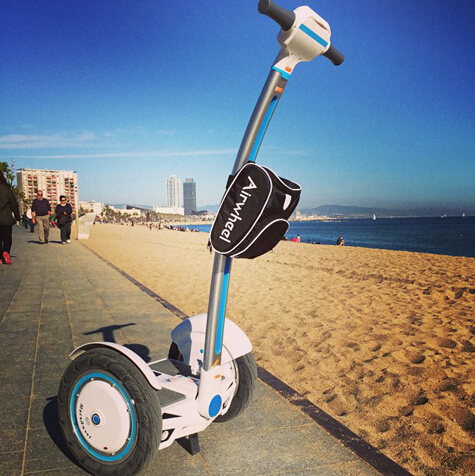 According to the current specs and descriptions of S3, it differs from fellow competitors in the premium material, remote key control and Bluetooth music player. So let's find out if it is indeed so superior price-performance-wise.
  Portability
  S3 features top magnesium alloy applied on Airbus A380, which is solid and durable, as well as super light to realize portability and low power consumption.
  Power and Duration
  The mag-lev motor that powers S3 self-balance unicycle. output power 1000Wh and is anti-overvoltage/overcurrent/overheat. It can work consistently for 100000hrs.
  Magnified Interface
  Mounted with a 4in magnified LED interface, you'll get a clear idea of real-time travelling data.
  One-click on and off Control
  When you turn off a traditional self-balancing scooter, it just shift into "sleep mode" instead of completely cut off, and that's the main reason why you only get 2 month standby time. As for S3, it'll shut down the battery discharge to the control chip once turned off by the remote key, which extends the standby time up to 3 months.
  Dual Battery Protection Boards
  Airwheel R&D team has innovatively applied dual intelligent chips and dual battery protection boards on S3, which allocates balanced battery power on 2 hub motors to avoid overload problem. Safety goes first.
  Bluetooth Music Player
  Airwheel S3 can connect your smart phone by Bluetooth and play songs on your phone by its dual bass speakers. Let's tune in the commute trip!
  Undoubtedly, the stage of Airwheel S3 has accelerated the rising industry of 2-wheeled electric scooter as well as smashed up the long monopoly of the industry. It is designed for everyone's everyday use instead of a playful toy of the rich or celebs. In addition, Airwheel S3 is CE certified with standard specs, just drive along without worrying about safety.
  Airwheel S3 makes a difference by its distinctive design and exquisite craftsmanship. Integrating transporter, workout and recreational tool, Airwheel S3 is more than an eco-friendly commute aid, but rather an intelligent life style.